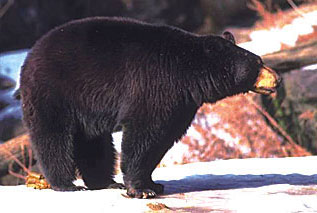 Shaped by the Past
Several periods of glaciation ravaged this landscape leaving behind granitic gneiss outcrops, sand and gravel beds. Surrounded by wetlands and lakes, the town lies between Algonquin Park and the Ottawa River, which provides habitat for pickerel [walleye] and the now-rare lake sturgeon. A mixedwood forest of white, red and jack pine, white and yellow birch, red maple and red oak once dominated the region. Cut for lumber from 1840 onwards, its descendents are found as a secondary growth around town.
The Eastern Canadian wolf is found in the large, relatively pristine habitat of the AECL Chalk River Laboratories. When food in the wild is scare, black bears amble into town to feed from domestic fruit trees. Migrating birds pass through the Ottawa Valley each spring and fall, and a myriad of waterfowl and warblers can be viewed here particularly in those seasons. Many species nest in the area including the ruby-throated hummingbird, which arrives here in early May and stays until September. Not to be outdone, Monarch butterflies wing-beat their way from Mexico to Deep River to lay their eggs on milkweed. Elegant pink lady's-slippers and graceful ferns can be found in the shady woodland.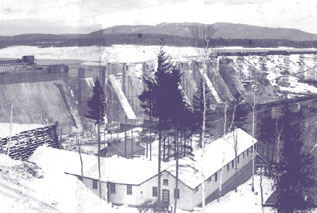 A Planned Community
For centuries First Nations peoples, explorers, fur traders and lumbermen used the Ottawa River to pass through the Deep River area. Settlement occurred in the 1800s, but it was not until the 1940s that major changes occurred to shape the communities of today.
In 1944 many local residents had to leave their homes because the Canadian Government expropriated their land to build a nuclear research site in support of the allied war effort. The new facility at Chalk River was to be staffed by world class European scientists fleeing the rise of Nazi Germany. However, World War II ended before the new laboratories were operational, so Canada used the new facility for the development of peaceful nuclear technologies.
Deep River was designed by architects from Montreal's McGill University as the housing community for the Chalk River employees. About this time, the entire area was also bolstered by the construction of a hydro generating dam and Ontario Hydro's nuclear training facility at Rolphton. Today, Deep River is still reliant on the Chalk River Laboratories for much of its economic activity, but tourism, retirees, military families and a vibrant service sector combine to create a modern and diverse community.